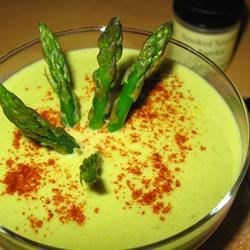 Spring is a great time to cleans the body after all the wintery treats and heavy dishes. Now that veggies are starting to grow again like asparagus, you can use them in a soup to help jump start your healthy eating while it is still brisk outside.
Ingredients
2 Tbls. Olive Oil
2 large yellow onions chopped
1 bunch of asparagus (mid stems to tips)
1 teaspoon salt
1 bunch green chard
14 cups gently packed spinach (about 12 oz) trim any tough stems
4 cups of vegetable broth
Big pinch of cayenne pepper
1 Tbls. lemon juice
Directions
1. Heat the olive oil in a soup pot over high heat. Add onions and salt, stir frequently until the onions are soft and begin to brown, about 5 minutes. Reduce heat to low and add 2 tablespoons of water, cover with a lid for 25- 30 minutes. Stir occasionally.
2. While the onions are cooking bring a pot of water to a boil and blanch the asparagus for one minute. Drain and transfer to a bowl of ice water.
3. Coarsely chop chard and spinach
4. Add spinach, chard and asparagus to the soup pot with 1 cup of the vegetable broth. Simmer until the spinach is bright green.
5. Transfer ingredients to a blender and blend until smooth. I usually wait until the ingredients are cooled down just a bit.
6. Blend until smooth, put blended ingredients back into the soup pot and add the last 3 cups of the vegetable broth.
7. Stir in lemon juice and cayenne. Re-warm the soup and serve!